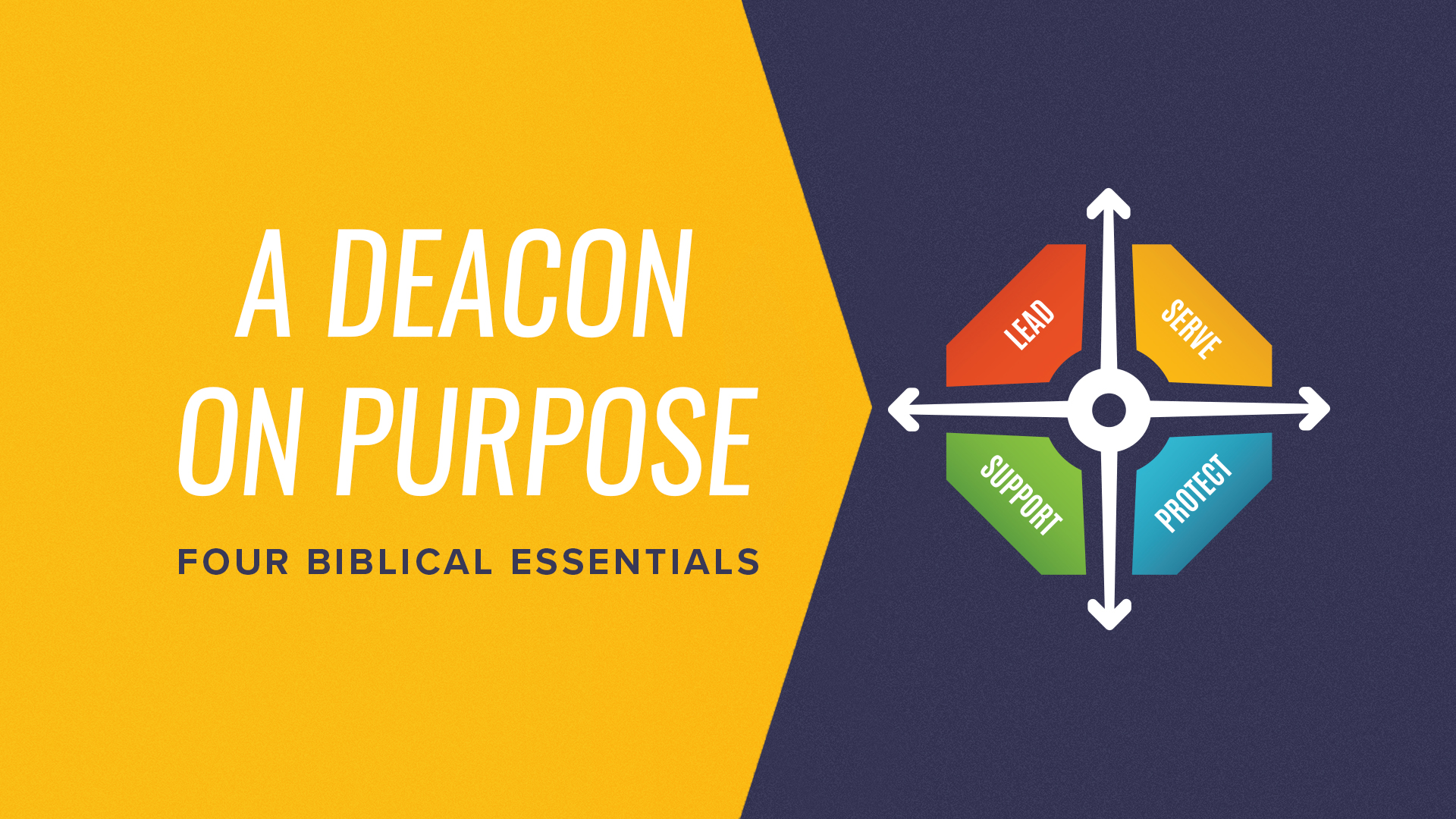 a deacon on purpose
The deacon serves as an extension of the pastor's long arm of ministry in the local church. It is our pleasure to offer deacon training for your local congregation in a biblical, cost-effective format. A Deacon on Purpose is a short book, available at minimal cost, which guides a deacon body through the four biblical purposes of a deacon: (1) Lead by Example, (2) Serve the People, (3) Support the Pastor & Staff, and (4) Protect the Peace. The book is organized into six sessions, and is flexible for use in a variety of formats
"We used 'A Deacon on Purpose' for a deacon retreat at Tate Springs. It is hands down the very best deacon training curriculum I've ever come across. It's theologically sound and extremely practical. I found that it joined together the hearts of the pastor and the deacons. I cannot recommend it enough!"

Jared Wellman

Pastor of Tate Springs Baptist Church, Arlington
"At most of these kinds of meetings, people come anticipating when it will be over. But no one wanted it to end!"

Gary Ward

Pastor of Emmanuel Baptist Church, Weatherford
"It seemed like the momentum and pace was not there before Tony's training. People were set in routine [lacking] passion for what they're called to do. One of the biggest things that happened after the training and since Tony came is the message of A Deacon on Purpose – a call to arms."

Chris Bain

Deacon at Glenview Church, Fort Worth
"Our Deacons have not gone through a Deacon training in years. A Deacon On Purpose was the perfect study for us. With the help of that study and Dr. Tony Wolfe, we are moving towards a more biblical Deacon body on purpose to serve the people of the church God has called them to."

Stephen Ammons

Pastor of Meadowbrook Baptist Church, Rockdale
deacon training request
It is our honor, in the SBTC Pastor Church Relations department, to provide helpful materials and resources for pastors and church leadership. In an effort to better serve our churches, we would like to provide their deacons with the opportunity to be trained by a staff member from the Pastor|Church Relations department. If your church would like to schedule a training, please fill out the form below, and someone will contact you shortly.
LifeWay's Deacon Magazine
Deacon Magazine enables deacons to learn more about their ministry role in the church and community. Deacon magazine assists them in carrying out their deacon ministry responsibilities, from visitation to dealing with church conflicts. Each quarterly issue connects real-life current conditions in church leadership with biblical truths written by key leaders. Devotionals and training plans for monthly deacons meetings are included in each issue.
LEARN MORE
Deacon Wives
This warmhearted, conversational new book from "Fresh Ideas" syndicated columnist Diana Davis shares stories and insights for deacon wives whether just inaugurated or long experienced. The reader will enjoy tips on how to best encourage her husband's work, the ministry of the pastor and his wife, and other church staff and members. There are also helpful home and family suggestions, self-evaluation forms and checklists, and even a detailed teaching plan to share this wealth of material with other women in the church
LEARN MORE
if you have any questions, feel free to contact us!