regional field reps
women's ministry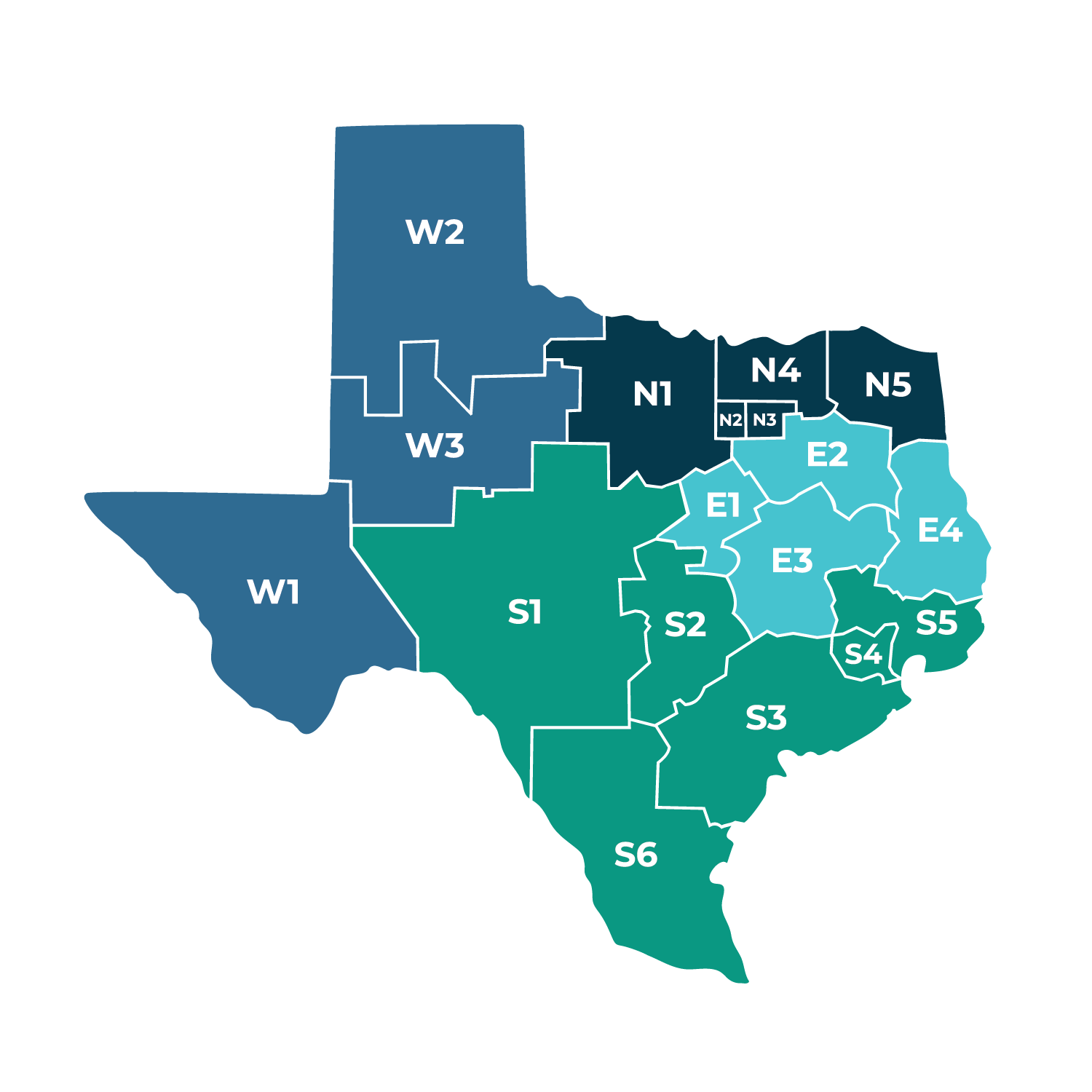 women's ministry
rep zones
Please check the map to find your zone. Then look at the list below to determine your local representative. If no one is listed for your particular area, please contact Laura Taylor or call 877.953.SBTC (7282) toll free for assistance.
contact your women's ministry rep
north
N1: Carrie Bond
email

Carrie is passionate about teaching women truth from God's word with authenticity and encouraging women to apply it in everyday life. She embraces the roles God has given her: wife, serving alongside her husband who is the senior pastor of Greenwood Baptist Church in Weatherford; mom of three through the blessing of adoption and homeschool teacher of one, and women's ministry leader at her church. Carrie also works with Surrendering the Secret, a post-abortive ministry, and enjoys speaking at women's events, equipping others in women's ministry and sharing a great cup of coffee.
N2: Arlene Sanabria
email
Arlene Sanabria is a wife, mother, and passionate speaker about biblical and Gospel-centered teaching. She loves to teach and write articles to encourage and equip women to love and live God's word and honor God through all they do. Arlene has degrees in Business Administration and Ministerial Arts. She also obtained a certification in Biblical Counseling from SWBTS.  Arlene supports her husband in their family business, is part of the communications team at her church, and is also a translator for SBTC.
N3: Jennifer Garcia
email

Jennifer is a pastor's wife and mother of three grown children. She has been serving alongside her husband for 14 years. Prior to that, they worked in evangelism and house church ministries. Her hobbies include reading and baking. She has a passion for encouraging women in ministry, especially pastors' wives.
N4: Rhonda Tidmore
email

Rhonda has a passion for Mentoring, Discipling, and Evangelism. She has served as a Women's Ministry Leader, Bible Study Leader, as well as a youth and children's teacher. She currently serves as a Small Group Bible Study Leader, a Prayer Coordinator, and a Decision Encourager at Prestonwood Baptist Church in Plano. She and her husband have been married 32 years and have 3 adult daughters, one son-in-law, and a new granddaughter.
N5: TBD
N: Ashley Allen
email
Dr. Allen serves as assistant professor of women's ministries and as director of news and information at Southwestern Seminary. Coming to Southwestern Seminary with more than a decade of denominational ministry experience, Allen most recently served as a senior consultant for the Baptist State Convention of North Carolina since 2009. In her role there, she developed and provided key oversight to statewide women's ministry in the areas of evangelism and discipleship. She is the author of several resources, including co-authoring Responding Well: A Guide for Women's Ministry Leaders to Help Survivors of Sexual Abuse.
N: Clara Molina
email
Clara Molina is the wife of Dr. Bruno Molina, Ph.D. They have 2 grown children and three grandchildren. Clara is the author of: Oh no! I Married the Pastor! and A Legacy of Wisdom and, (¡Oh no! ¡Mi esposo es el pastor!) She is also a conference speaker whose focus is to encourage established and church planter's wives, and women in general to walk closer with God. She is a member of the National SBC Hispanic Council, is a bilingual columnist for Baptist press. served as vice Chair for the SBC Registration committee in 2021, and will continue serving in this group in 2022. Clara graduated from Southwestern Baptist Theological with Masters in Christian School Education (MACSE) and is currently writing her dissertation to obtain a Dmin from Midwestern Baptist Theological Seminary.
west
W1: To Be Determined

W2/W3: Melissa Meredith


email
Melissa Meredith is passionate about gathering and discipling women of all ages. She is a graduate of Southwestern Seminary (M.Div Women's Studies) and serves as a Women's Ministry Director in West Texas. She is a contributing writer for a women's Study Bible and devotional, and writes on theology, discipleship, and women's issues from a biblical perspective.
south
S1: Ali Shaw
email

Ali Shaw is the hellowmornings.org Bible study creation director, and she owns & writes for donotdepart.com. Ali is also the women's coordinator at her church.
S2: Janice Pender
email

Janice has worked with women and children as a director, teacher and mentor for over 18 years. She currently serves as the Director of Women's Ministry at Fallbrook Church, Houston. She is the wife of Michael A. Pender, senior pastor of Fallbrook Church and they are the proud parents of 4 children.
S3: Sandra Peoples
email

Sandra (M. Div in Women's Studies) and her husband Lee met while attending Southeastern Baptist Theological Seminary. Lee has pastored churches in North Carolina, Pennsylvania, and now Texas. They have two boys, David and James. Since James's autism diagnosis in 2010, Sandra has focused on encouraging special-needs parents through her writing, including her recent book, Unexpected Blessings: The Joys and Possibilities of Life in a Special-Needs Family. She serves at her church as a Bible teacher and is passionate about supporting women who are living out hard stories with the hope we have in Christ.
S4: Anita O. Wood
email

Anita Onarecker Wood represents this ministry in Zone S4-north. She is certified in Women's Ministry, and a graduate of Southwestern Baptist Theological Seminary. Her book, Divine Appointment: Our Journey to the Bridge, traces God's leading her life, and her witness to miraculous prayer. Anita serves as Director of Education and Evangelism at Memorial Baptist Church, Spring.
S5: Lori Moody
email

Lori is a wife, mother, grandmother, homemaker, and women's leader. Lori has a speaking/teaching ministry (www.lorimoody.com) where she speaks to women's groups in the context of conferences, retreats, banquets etc. Recently, her writing was included in a portion of the book, Join the Insanity: Crazy-Fun Life in the Pastors' Wives Clubby Rhonda Rhea. Lori and her husband, Scott, live in Southeast Texas where you might find her playing with her grandchildren, reading, crocheting, or preparing to minister when called upon.
S6: To Be Determined
S: Spring Rutland
email

Spring Rutland is a wife, mom of 4 and a nurse by trade. As a graduate of Southwestern Baptist Theological Seminary, she has served in various women's ministry roles. A widow from her first marriage, she has lived through suffering and grief and is passionate about helping others navigate the deep waters to find joy once again.
east
E1: Peggy Osborne
email

Wife to Chris Osborne, Senior Pastor at Central in College Station, TX. Speaks to educators, parents and women across the state.
N2: Raychel Shaw


email
Raychel Shaw serves on staff at FBC Grapeland as the co-director of student ministries alongside her husband, Shaun. Passionate about missions and discipleship. Graduate of SFA and Southwestern Baptist Theological Seminary.
E3: Laura Hammons
email
Laura and her husband Paul have two boys, Alan and Ryan, and attend Central in College Station, TX.  Laura works full-time at Texas A&M University and serves as the mentoring coordinator on the women's ministry team in her church. Laura completed her Ph.D. in human resource development at Texas A&M University and has a great love for learning, development, organizational improvement, and creating spaces for women to be in community.
E4: Aimee Shelton
email

Aimee is the wife of Ivy Shelton, Pastor of First Baptist Church Waskom. She works with Women's Ministry at her church and disciples youth.