regional field reps
women's ministry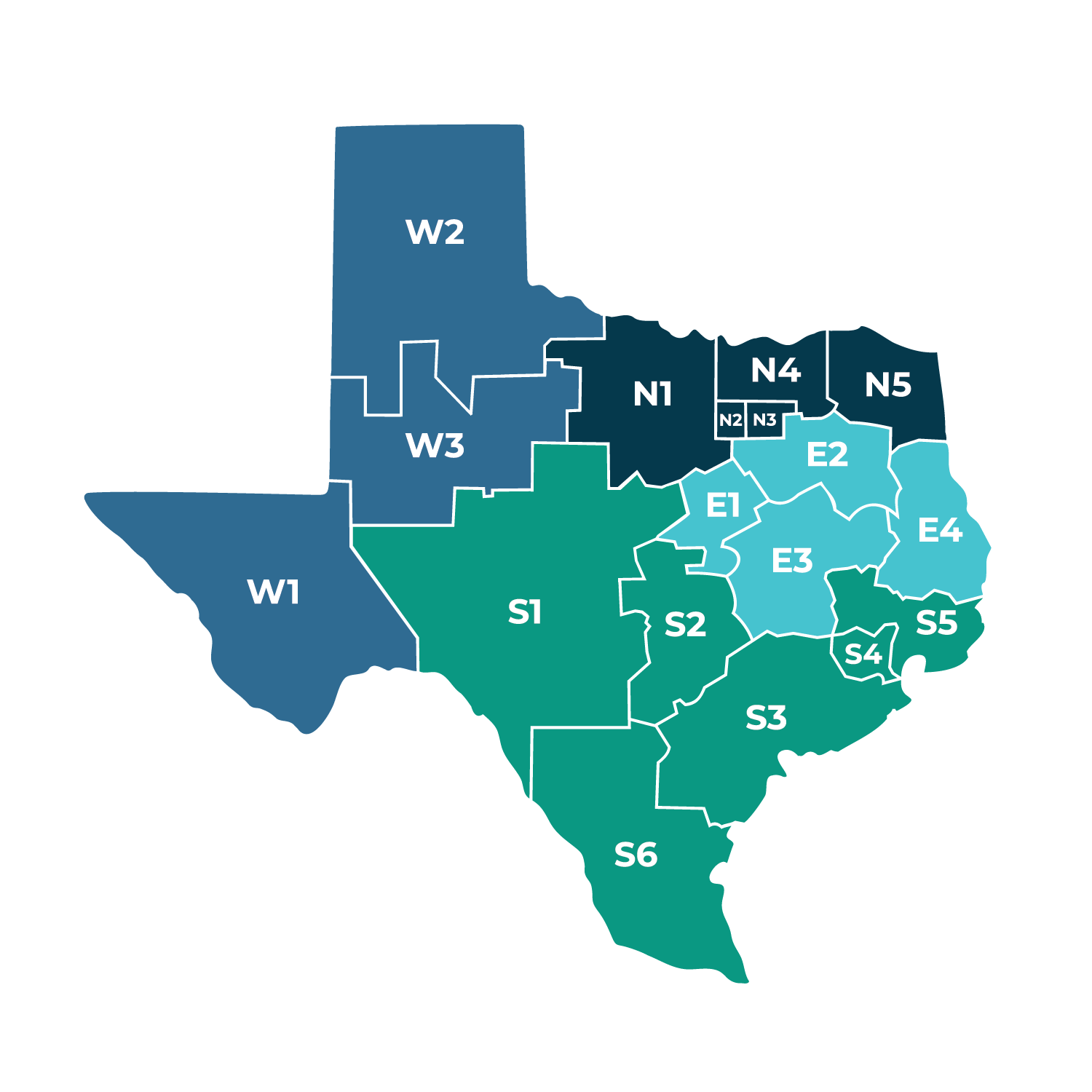 women's ministry
rep zones
Please check the map to find your zone. Then look at the list below to determine your local representative. If no one is listed for your particular area, please contact Laura Taylor or call 877.953.SBTC (7282) toll free for assistance.
contact your women's ministry rep
north
N1: Carrie Bond
email

Carrie is passionate about teaching women truth from God's word with authenticity and encouraging women to apply it in everyday life. She embraces the roles God has given her: wife, serving alongside her husband who is the senior pastor of Greenwood Baptist Church in Weatherford; mom of three through the blessing of adoption and homeschool teacher of one, and women's ministry leader at her church. Carrie also works with Surrendering the Secret, a post-abortive ministry, and enjoys speaking at women's events, equipping others in women's ministry and sharing a great cup of coffee.
N2: Melissa Meredith
email
Melissa is passionate about gathering, ministering to, and discipling women, and has served on local church staffs in women's ministries and family life. She currently serves as Development Officer and Women's Auxiliary Coordinator at Southwestern Baptist Theological Seminary in Fort Worth, Texas. Melissa also writes about theology, discipleship, and women's issues from a biblical perspective.
N3: Jennifer Garcia
email

Jennifer is a pastor's wife and mother of three grown children. She has been serving alongside her husband for 14 years. Prior to that, they worked in evangelism and house church ministries. Her hobbies include reading and baking. She has a passion for encouraging women in ministry, especially pastors' wives.
N4: Rhonda Tidmore
email

Rhonda has a passion for Mentoring, Discipling, and Evangelism. She has served as a Women's Ministry Leader, Bible Study Leader, as well as a youth and children's teacher. She currently serves as a Small Group Bible Study Leader, a Prayer Coordinator, and a Decision Encourager at Prestonwood Baptist Church in Plano. She and her husband have been married 32 years and have 3 adult daughters, one son-in-law, and a new granddaughter.
N5: Wendy Tomkins


email
Wendy has been married for 23 years to her husband Robbie Tompkins, and together, they have one daughter, Brooke, who is 15 and a sophomore in high school. They reside in Longview, Texas.  Wendy loves to serve and has helped and supported various non-profits in Longview such as Graciously Broken Ministries, Heartisans and Christian Women's Job Corps of Gregg County.
west
W1: To Be Determined

W2: To Be Determined
W3: To Be Determined
south
S1: Ali Shaw
email

Ali Shaw is the hellowmornings.org Bible study creation director, and she owns & writes for donotdepart.com. Ali is also the women's coordinator at her church.
S2: Janice Pender
email

Janice has worked with women and children as a director, teacher and mentor for over 18 years. She currently serves as the Director of Women's Ministry at Fallbrook Church, Houston. She is the wife of Michael A. Pender, senior pastor of Fallbrook Church and they are the proud parents of 4 children.
S3: Sandra Peoples
email

Sandra (M. Div in Women's Studies) and her husband Lee met while attending Southeastern Baptist Theological Seminary. Lee has pastored churches in North Carolina, Pennsylvania, and now Texas. They have two boys, David and James. Since James's autism diagnosis in 2010, Sandra has focused on encouraging special-needs parents through her writing, including her recent book, Unexpected Blessings: The Joys and Possibilities of Life in a Special-Needs Family. She serves at her church as a Bible teacher and is passionate about supporting women who are living out hard stories with the hope we have in Christ.
S4: Anita O. Wood
email

Anita Onarecker Wood represents this ministry in Zone S4-north. She is certified in Women's Ministry, and a graduate of Southwestern Baptist Theological Seminary. Her book, Divine Appointment: Our Journey to the Bridge, traces God's leading her life, and her witness to miraculous prayer. Anita serves as Director of Education and Evangelism at Memorial Baptist Church, Spring.
S5: Lori Moody
email

Lori is a wife, mother, grandmother, homemaker, and women's leader. Lori has a speaking/teaching ministry (www.lorimoody.com) where she speaks to women's groups in the context of conferences, retreats, banquets etc. Recently, her writing was included in a portion of the book, Join the Insanity: Crazy-Fun Life in the Pastors' Wives Clubby Rhonda Rhea. Lori and her husband, Scott, live in Southeast Texas where you might find her playing with her grandchildren, reading, crocheting, or preparing to minister when called upon.
S6: To Be Determined
east
E1: To Be Determined
E2: To Be Determined

E3: Laura Hammons
email
Laura and her husband Paul have two boys, Alan and Ryan, and attend Central in College Station, TX.  Laura works full-time at Texas A&M University and serves as the mentoring coordinator on the women's ministry team in her church. Laura completed her Ph.D. in human resource development at Texas A&M University and has a great love for learning, development, organizational improvement, and creating spaces for women to be in community.
E4: Aimee Shelton
email

Aimee is the wife of Ivy Shelton, Pastor of First Baptist Church Waskom. She works with Women's Ministry at her church and disciples youth.